While Chartering the Caribbean Islands
Escape to the most excellent relaxation and adventure while chartering the Caribbean islands in your all-inclusive private charter yacht aboard Aquanimity. Whether you seek tranquil relaxation or thrilling exploration, Aquanimity has you covered. If unwinding is your goal, recline and take it easy as you bask in the sun's warmth on our spacious deck. For the adventurous souls, dive into ship-to-shore activities such as swimming, kayaking, snorkeling, and paddleboarding. You're the master of your vacation, crafting your very own itinerary.
Featured Locations of the Caribbean
Jost Van Dyke
Jost Van Dyke's rich melting-pot history has fostered some of the Caribbean's best dining, with barbecue, Indian, and seafood dominating the menus at the isle's various beachside eateries. Serving as the home of the Soggy Dollar Bar and its #1 artistic bartending drink, the PAIN KILLER
Virgin Gorda
Visitors to Virgin Gorda will discover vegetation-lined walking trails, several nature sanctuaries, and a truly awe-inspiring view from Gorda Point. From there, you'll enjoy a panoramic eyeful of the island's pristine beaches and national park space. Natural beauty isn't the only sort that's on offer, however. Virgin Gorda is also home to several historic sides, including the remnants of early African, Spanish and Indian settlements.
Anegada
Anegada is one of the archipelago's most unique islands, given its nearly level coral and limestone topography (in contrast to the volcanic origin of most of the region's other islands). In fact, Anegada only rises 28 feet above sea level at its highest point! The island is also surrounded by striking reefs, underwater caves, tunnel formations and age-old shipwrecks, making it a popular spot for snorkelers and SCUBA divers
Tortola
As the archipelago's largest island, the Capital isle of Tortola is the most likely starting point for your British Virgin Islands adventure. Ancient ruins of historic settlements past coexist side-by-side with oceanside luxury resorts and modern townships here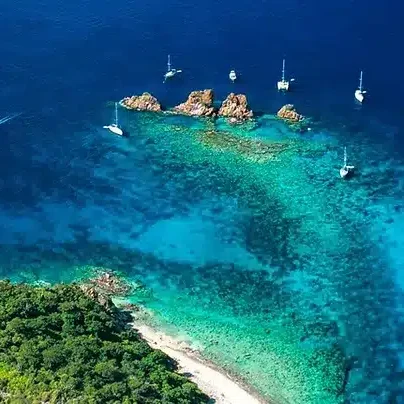 Discover the tranquil beaches and vibrant cultures...
Martinique
Martinique is known for its unique blend of French and Caribbean cultures. Picture yourselves strolling hand in hand along pristine beaches, the gentle waves lapping at your feet, and the sun setting in a blaze of colors over the horizon. Martinique offers a range of intimate beaches, each providing the perfect setting for quiet moments and heartfelt conversations.
Saint Lucia
Saint Lucia is a stunning island nation located in the eastern Caribbean Sea. Known for its lush landscapes, iconic Pitons, and vibrant culture, Saint Lucia offers travelers a diverse range of experiences.
Saint Barthelemy (Bart's)
Located in the Leeward Islands, St. Barts is renowned for its stunning beaches, high-end resorts, chic atmosphere, and unique blend of French and Caribbean cultures. Imagine a Caribbean jewel where elegance meets tropical paradise—an island that exudes sophistication and charm at every turn. This is St. Barts, a destination that offers an exquisite blend of luxury, natural beauty, and a relaxed atmosphere that will leave you enchanted.
Saint Maarten & St. Martin
The island is divided into two distinct parts: the northern French side, Saint-Martin, and the southern Dutch side, Sint Maarten. Each side has its character and influences. Love shopping? St. Martin is a shopper's paradise. Philipsburg, the capital of the Dutch side, offers duty-free shopping where you can find everything from luxury brands to unique souvenirs.
Tobago Cays
Imagine stepping into a world straight out of a postcard—a world where turquoise waters stretch as far as the eye can see, where pristine white sand beaches beckon you to sink your toes in, and where the air is filled with the sweet scent of the ocean breeze. This is the Tobago Cays, a paradise that promises to transport you to a realm of natural beauty and serenity unlike anywhere else.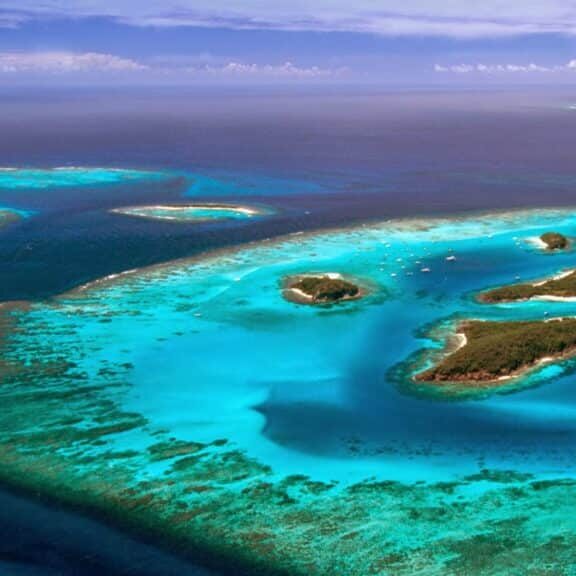 Submerge yourself in French & Dutch culture...
Indulge in Endless Discovery...