Chartering the Caribbean Islands and its Culture
Experience the Caribbean when you sail aboard Aquanimity with our fun, experienced crew...
The Caribbean is a diverse and culturally rich region located in the western part of the Atlantic Ocean, southeast of the Gulf of Mexico. It comprises numerous islands, archipelagos, and mainland countries, and is known for its stunning natural beauty, warm tropical climate, and vibrant culture.
The Caribbean region comprises thousands of islands, large and small, along with some coastal areas of mainland countries. These islands are divided into several subregions, including the Greater Antilles (Cuba, Jamaica, Hispaniola, and Puerto Rico), the Lesser Antilles (a chain of smaller islands stretching from the Virgin Islands in the north to Trinidad and Tobago in the south), and the Bahamas.
The Caribbean enjoys a tropical climate characterized by warm temperatures year-round. It is known for its sunny weather, making it a popular destination for tourists seeking sun, sand, and sea. However, the region is susceptible to hurricanes during the Atlantic hurricane season, typically from June to November.
The Caribbean is a melting pot of cultures, with influences from Africa, Europe, Asia, and indigenous peoples. This cultural diversity is reflected in the region's music, dance, cuisine, and traditions. The primary languages spoken in the Caribbean are English, Spanish, French, and Dutch, depending on the specific island or country.
Caribbean cuisine is a fusion of flavors from various cultures. Common ingredients include rice, beans, tropical fruits, seafood, and spices like jerk seasoning. Popular dishes include rice, peas, roti, jerk chicken, and conch fritters.
Our Charter Guests Love Us
AWESOME TIME!
Awesome time!
Enjoyed the whole week.
Great crew.
Will do again in a heartbeat.
IT WAS A PRIVILEGE
Thank you so much for sharing your boat and the USVI with us. Your recommendations were perfect, from the hikes with beautiful views, the quiet bays for snorkeling, and the quaint shops. We truly enjoyed our very relaxing catamaran vacation. Thanks, Captain, for a smooth ride. Teresa, your food was amazing and beautifully presented. I will use some of your techniques to up my game. 🙂
We also enjoyed the game nights. It was a privilege to spend the week in your company.
Use our the Google Interactive Map & Explore the Charter Itinerary

Click around the map & move to different locations, watch the videos or view the area pictures by clicking the icons, and call us when you're ready to book that charter or if you have questions.  We are right here to help you!
British Virgin Islands
Jost Van Dyke
Anegada
Virgin Gorda
Norman Island
Sandy Island
Salt Island
Cooper Island
Guana Island
Marina Cay
Peter Island
US Virgin Islands
St. John
St. Thomas
Water Island
St. Croix
Little Saint James Island
Buck Island
Hassel Island
Great Saint James Island
The Grenadines & Grenada
St. Vincent
Union Island
Tobago Cays
Palm Island
Carriacou Island
Mayreau Island
Baliceaux  Island
Petit St Vincent Island
Bequia
Mustique
Canouan
Other Islands & Hideaways
Saint Maarten/St Martin
Anguilla
St Barts
Antigua & Barbuda
Saint Kitts & Nevis
Salt Island
Montserrat
Guadeloupe
Dominica
Martinique
Trinidad
Saint Lucia
Barbados
Come to the Caribbean ~ Where the soul seeks adventure.
Immerse yourself in the fusion of the islands...
Virgin Gorda Island
Experience the island of Virgin Gorda, home of the world-famous Baths. The Baths are as pristine as ever, including the famous pathway leading through the giant boulders to Devil's Bay. Top of the Baths Restaurant is open with its delightful panoramic views and private pool; charter guests can swim at the Baths' private pool with a paid drink or dining.
The nearby marina at Virgin Gorda Yacht Harbor offers Wi-Fi, fuel, water, and ice, so the Captain and Chef may go and do some provisioning while you and your friends are exploring the area. The grocery store is a short walk, and some restaurants are open nearby that can be accessed by dinghy or taxi, including the all-new Snapper's Bar & Grill and Coco Maya, which is a 10-minute walk from Spanish Town. Coco Maya (featured below) is a great spot to relax with a cocktail and meal. * A charter guest favorite!*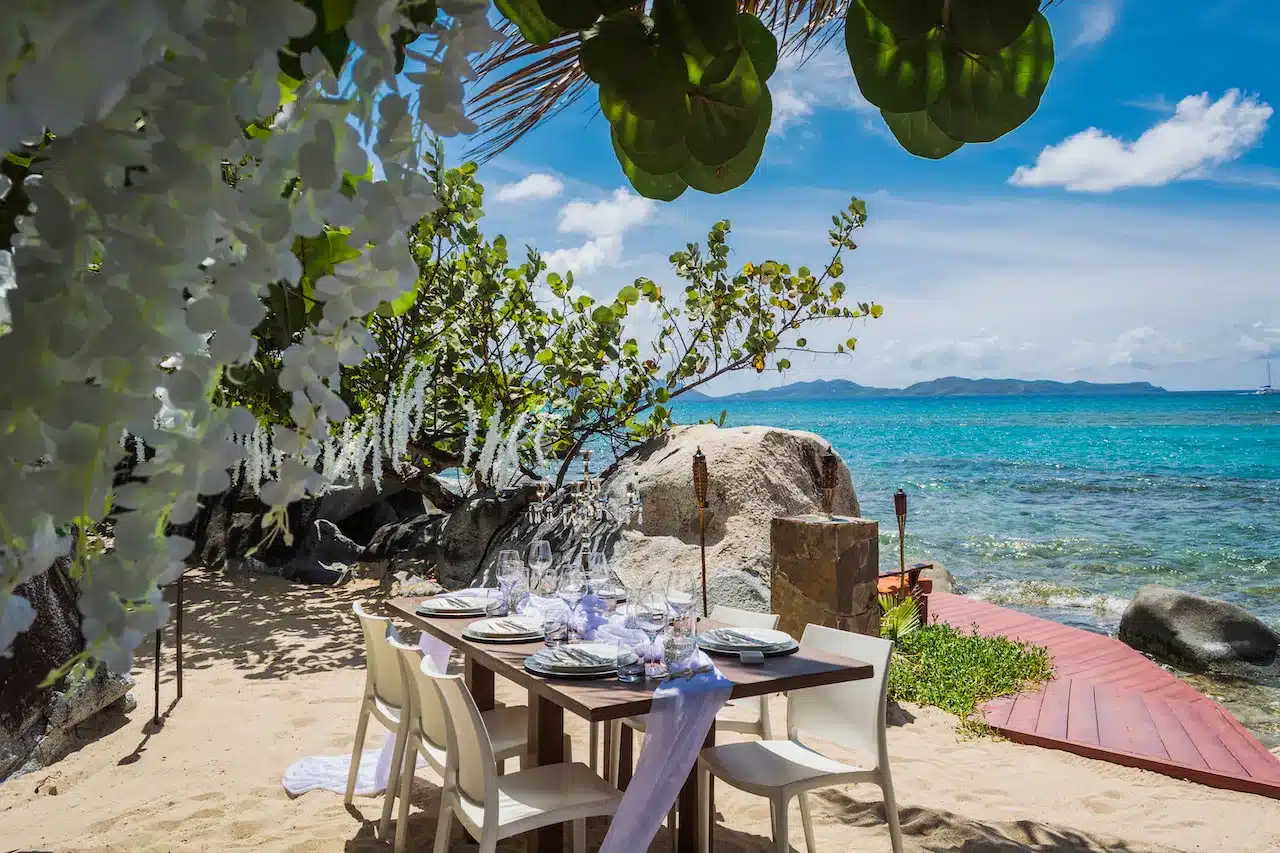 Anegada Island
Take a taxi or scooter rental to Cow Wreck Beach Bar for lunch, where the locals are always friendly and the beaches are world-class. Don't miss the nearby gift shops. Visit beautiful Loblolly Bay for excellent snorkeling, and stop at Big Bamboo for a cocktail or snack. Make reservations at Anegada Reef Hotel, Potter's by the Sea (featured below), or Wonky Dog to tempt your taste buds with famous Anegada lobster for a delightful dinner ashore. Anegada Reef Hotel can also assist in organizing taxi transportation to make the most of your time on the island.